March 14, 2014
Android Giveaway of the Day is Out!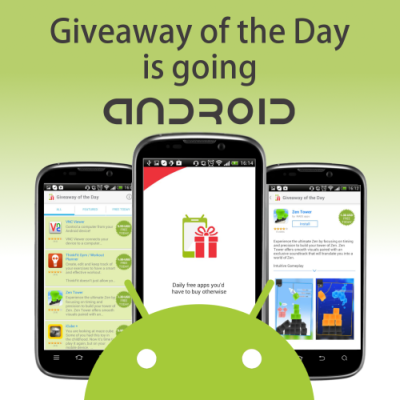 We are finally ready to make Android part of our audience a little bit happier, which means that Giveaway of the Day is going Android. So prepare your Android devices for a money-saving giveaway ride – android.giveawayoftheday.com.
For your convenience Android Giveaway of the Day is also available as a free app in the Google Play. Every time the new giveaway appears the app sends you an instant notification so it would be nearly impossible for you to miss another great offer.
Now you know Giveaway of the Day for Android is out, you know where to go for your portion of free offers. Welcome on board!
And an important note for Android developers. The truth is we are only making our first steps in this rapidly developing market, but considering our long-term involvement in this business, we feel like there is a lot we have to offer. So if you are ready to trust us with your product promotion, don't hesitate to submit your application via the form here.
—
Best mobile regards,
GOTD project team