June 9, 2011
Sales are fun!
Hi there!
Sales are fun, because sales mean discounts! The higher the discounts, the less we linger to buy. We doubt that "sale" can be referred to software world, so let's call it as it is: one day a developer becomes generous enough to lower the price.
It's nearly been a month since we gave away AllMyNotes Organizer Deluxe. During the day Vladonai Software also provided a huge discount to buy updates and support, but it was a time-limited offer – the same 24 hours. This said it is only natural that some users missed the offer…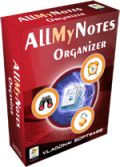 Due to all the inquires the Developer has got (and, we bet, keep getting), the 60%-discount is back on GOTD pages. Please use this link to benefit from this offer and purchase AllMyNotes Organizer Deluxe/Portable Edition at a lower price.
By the way, it is one of those cases when "for GOTD users" means "for GOTD users" literally: the link will only work when you are on this very page. So make sure you link friends to GOTD blog when sharing. ;)
Warm regards,
GOTD team and Volodymyr Frytskyy from Vladonai Software